Yiannis Yiannis
Yiannis Yiannis has been working with Cypriot stone (sandstone / limestone) for more than 35 years and occasionally with granite and marble. The Cypriot limestone is extracted from the local quarryings north of Limassol, mainly at Kivides area.
Yiannis Yiannis work varies from artistic sculptures to architectural elements such as fireplaces, columns, furnitures, fountains, monuments in public spaces such as cemeteries and plazas.
His work can be seen in museums, churches, hotels and private homes in Cyprus and abroad. Past years he has been working on his own series of sculptures that is displayed in an outdoor gallery at his workshop.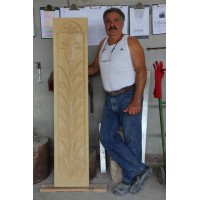 ---
Showing 1 to 9 of 9 (1 Pages)