George Gavriel
George Gavriel hails from Cyprus. From 1980 to 1987 he attends on scholarship at the Academy of Fine Arts Sourikov Moscow in the department of monumental art workshop of the famous Academic Klavdia Alexandrovna Toutivol.
In 1984, still a student, with the initiative of the Academy is organized his first solo exhibition. In 1987 he completes his studies, where he was awarded a Master's degree of Fine Arts. Since 1990 he is working in schools as an art teacher and from 2008 as inspector of Art in Secondary Education. He maintains a painting workshop where he continues to create his artwork.
George Gavriel has to his credit several solo exhibitions as well as group and has represented Cyprus twice in the Beijing Biennale in 2010 and 2012.
In 2014 he was awarded the State Prize for Literary Book Illustration for Children and Adults.
George Gavriel is an accomplished artist, where his work stands out for its intense personal style. His compositions are distinguished for the simplicity, purity of forms and colors, but also the almost complete absence of perspective, very decisive elements for the articulation of personal visual language.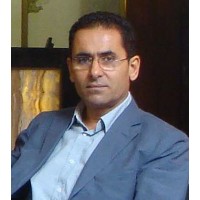 ---
Showing 1 to 2 of 2 (1 Pages)