Dimitri Strelkov
Dimitri Strelkov considers abstraction the true freedom of creativity, the quintessence of painting in its pure form. The artist's paintings combines different movements of abstract art and he defines his style as Abstract Eclecticism. Saturation of the plane of the painting with a variety of picturesque technique and textures, coupled with an expressive, dynamic composition structure allows him to create his own unique multidimensional world which can be seen as a whole at a distance, or studied in details centimeter by centimeter.
Dimitri graduated from Krasnopresnenskaya Art School and the Art and Graphic Department of Moscow State Pedagogical University. He is a member of the Association of Painters of MOSCOW UNION OF ARTISTS and a member of the Creative Union of Artists of Russia.
The artist took part in more than 85 group exhibitions and had 8 solo exhibitions in Russia and abroad.
Paintings are in private and corporate collections in Russia, Germany, France, Holland, Japan, Portugal, Turkey, China, the United Arab Emirates, in the Museum of the Portrait in Moscow, in the National Portrait Gallery, in the museum "Gogol's House" in Moscow.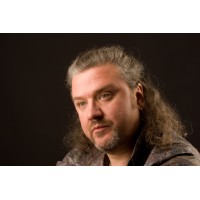 ---